Install new font in iOS 7
iOS 7 allow to add new font. However ,font fallback can't work in app at iOS 7.1. To install font , you need to create the mobileconfig file.
Create Font Config file
Download the Apple Configurator from Mac App Store.
Open Apple Configurator and go to Supervise.
Click the + of Profiles. Click Create New Profile.
Click the Fonts from Left side. After that click Configure button.
It will allow to chose the font.
If you want to add more fonts, click on + icon on top.
If you want to remove the fonts , click on - icon.
After adding the fonts , go to General and you need to give a name of your profile.
After that , click save and you will see mobileconfig profile at Profiles.
Select the profile name and click the share icons. Save it in your computer.
Install
You can share your .mobileconfig profile to your email. Open with iOS Default mail app. It will install the config.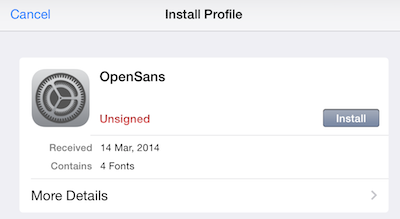 Use in Pages
After installing the font , you can use this font in Pages and other apps. It will include in iOS available font list.